The official sponsor of Slovenian National Team on European Handgun Championship in 2019
The official sponsor of Slovenian National Team on IPSC Handgun World Shoot 2017
The company M-Arms is a subsidiary of a family business' metal fabrication with 400 years of tradition. M-Arms originates from its founder and CEO's, Mr. Žiga Mandelj, need to adjust his guns for competition purpuses (IPSC, IDPA shooting) as there were no aftermarket parts. Thus, Mr. Mandelj started producing gun parts and accessories for his needs and purpuses and afterwards for his shooting colleagues. Today, he is proud to combine his shooting skills with engineering knowledge resulting in cutting edge firearms products (accessories).
After consulting with the best Slovenian and foreign shooters and various companies, M-Arms is able to offer improved products and even designs and produces various prototypes. Nevertheless, the company mantained its main know-how on a confidential basis, in order to provide other customers the finest possible products which can be proudly shown and used.
What does
M-Arms offer
to its customers?
Parts and accessories for weapons
Additional parts and equipment
Custom made parts
Milling of weapon parts (eg. slide, base pads, etc.)
Engraving
Production of shooting systems, comprising bullet hunters and various targets (poppers, plates, gongs, etc.)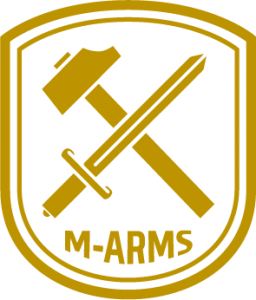 M-Arms' logo consists of a sword and a hammer. The latter represents the rich 400-years-old tradition of blacksmiths in Mandelj family on Slovenian territory. On the other hand, the sword represents a weapon, as blacksmiths used hammers, fire and crude iron to make weapons for defence and attack. Nowadays, M-Arms uses the latest technology i.e. CAD/CAM technology for producing top quality and cutting edge products that meet even the most demanding requirements of our customers. Accordingly, we also manufacture custom made products.
Naložbo sofinancirata Republika Slovenija in Evropska unija iz Evropskega sklada za regionalni razvoj.