ROBERT ČERNIGOJ, SLOVENIA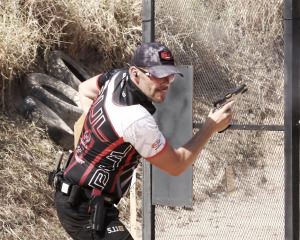 Robert started shooting in 2012 and since than he has already received many flattering titles in IPSC shooting, both at home and abroad. Thus Robert became a teacher for all those who wish to prosper in this sport. But despite of already being a great shooter, Robert is still trying to improve himself in what, beside his talent and love for this sport, M-Arms grips and base pads play an important role.
PAVLE DOMADENIK,
SLOVENIA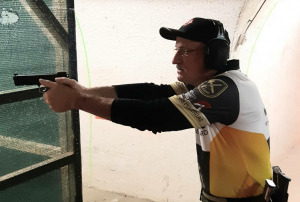 Since Pavle was an active member of the special parachute unit during Yugoslavia, he is familiar with weapons. He started with IPSC competitions in 2010 as a Senior in Standard division (at home and abroad), and has been competing as a Super Senior since 2016, where he finished 1st in 2019 national championship. Pavle loves dynamic shooting because of its sense of camaraderie and equality of all shooters, whether older, younger, masters, amateurs, men and women, who have the same tasks and challenges. He uses M-Arms products as they are designed for shooters with different requirements and needs. Pavle uses base pads for a quick insertion of the magazine in the pistol and short thin grips due to his smaller hands, which allow him a firm grip, full control of the gun and a quick reach of the magazine release button. And because of the excellent grips' checkering, he no longer uses magnesium in case of sweaty hands.
BOŠTJAN PAVLIČ,
SLOVENIA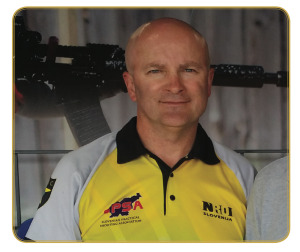 Boštjan has been involved in practical shooting for over 25 years, competing with handgun, rifle and shotgun. He finds IPSC attractive because of its undefined perfection, as each stage can be shot with better hits, faster time, etc. Boštjan uses M-Arms products because of their precise design and high quality since they have been created on the basis of consultation with best competitors in order to meet their requirements. M-Arms products are distinguished by the constructor's ear for improvements and usability for achieving top-notch shooting results in training and competitions.
THOMAS AFFLECK, SOUTH AFRICA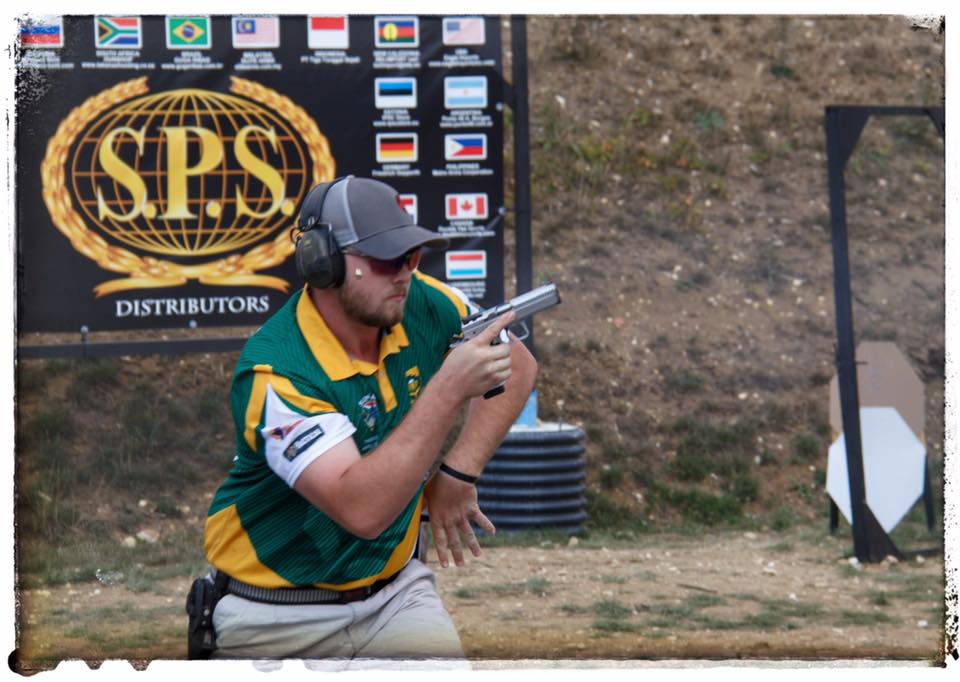 Thomas has been shooting for 11 years, and has competed in 2 world shoots as well as in the Czech open in Production Division, where he has won both provincial and national titles.  Similar to his coach and team members for M-Arms, Thomas won his division 4 years consecutively.  His father introduced him to this sport when he was 12 and he loved the sport ever since. Thomas started off shooting the CZ Shadow 1 and moved to the Tanfoglio stock 2 Extreme and has stayed with it ever since. He thinks the M-Arms grips and base pads are going to push the gun to the next level.
KAHLIL ADRIAN ARANETA VIRAY, PHILIPPINES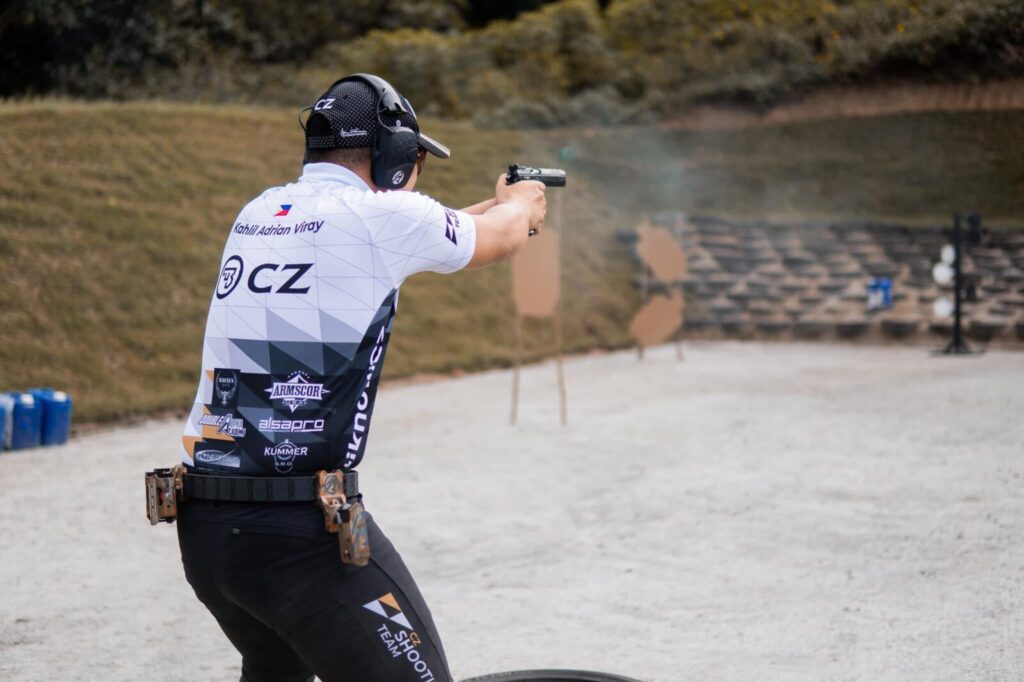 Kahlil is a junior action shooter who has been competing since eleven years old, and has won a number of local matches and placed in international competitions. He is currently the IPSC Junior World Champion (2017) in standard division and holds the world record for it. Kahlil uses M-Arms brass accessories to complement its CZ Tactical Sport 2 (.40 cal). Not only does he find M-Arms products aesthetically pleasing, he also believes in its quality and efficiency. He finds M-Arms brass grips' design very ergonomic which has made "regripping" much easier. Reloading is swifter and smoother with brass magwell while brass base pads offer a plus one round which is relatively an advantage. Kahlil definitely recommends M-Arms brass accessories for better recoil management.
JORGE BALLESTEROS,
SPAIN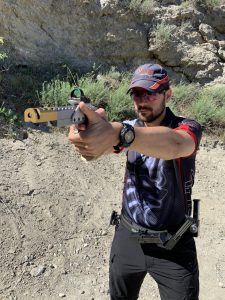 Jorge Ballesteros is a professional shooter that started his shooting career in 1999 when he was just 16 years old. He has won many championships in all these years, the most important ones being the IPSC World Championship in 2017 and the IPSC European Championship won three times in a row (2013, 2016, 2019). Therefore, his dedication and his passion to this sport is well proven. He decided to use M-Arms products because of its utility and quality as he considers them a multi-purpose concept affirming that these are very interesting and useful on his equipment.
VIOLETTA BOEHM,
ITALY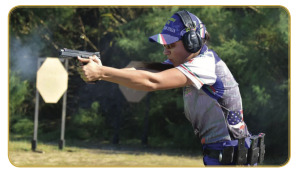 Violetta dreamed about shooting since she was a child. In 2013 she tried it out and immediately fell in love with the shooting world, especially IPSC. She loves its complexity and the fact that it takes 100% of a shooter's effort, does not forgive errors, forces strategic thinking, planning and performing the best under stress and pressure in any weather conditions. IPSC gave her the possibility to experience all that, which charges her with energy. Violetta uses M-Arms base pads and grips, so she does not need any additional grip elements (like magnesium, etc.), which is especially practical in rain or extreme heat with sweaty palms.
RAFAEL da COSTA PENICHE,
PORTUGAL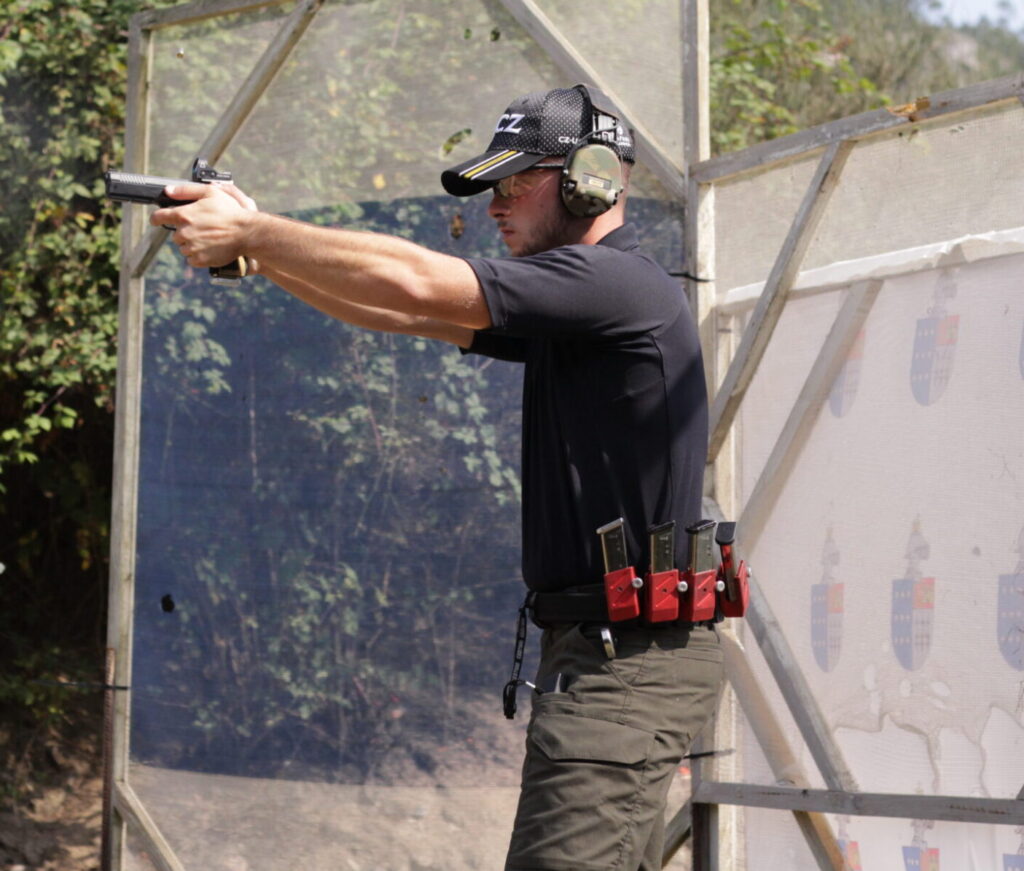 Rafael is one of the youngest IPSC shooters in Portugal (23 years). He started with IPSC shooting in late 2019 and got addicted to this sport. After the first match Rafael realised he wanted to become better, therefore he started practicing even more, and in 2020 his efforts were redeemed with  2nd place in the National Championship. The evolution continued and in 2021 Rafael achieved the flattering title of National Champion and received a President's medal. Rafael sees every single training session as a new opportunity to improve. He uses the 3D President brass grips (long version) from M-Arms because of grip's weight, their ergonomic feel and firm grip they offer in every condition (rain, sweat, etc.). He also uses STD Magwell base pads which are of a simple design and very functional giving the best performance possible to the shooter.
MARJAN DŽONIĆ,
SERBIA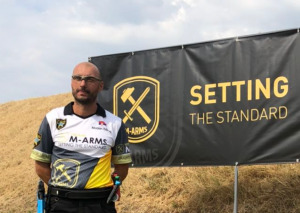 Marjan started practicing shooting in 2004 as a member of the Special Anti-Terrorism Unit of the MUP RS (Serbia). In addition to being a competitor, for the last 7-8 years he has been trying to transfer his experience and knowledge as a coach to new competitors. Marjan uses M-Arms brass grips as they offer a better and firmer grip, while also to add the weight and reach faster splits. He also uses M-Arms aluminum base pads as the magazines fall out the frame faster and always fall to the bottom preventing the magazine to get damaged.
SAULIUS IVASKEVICIUS

,
LITHUANIA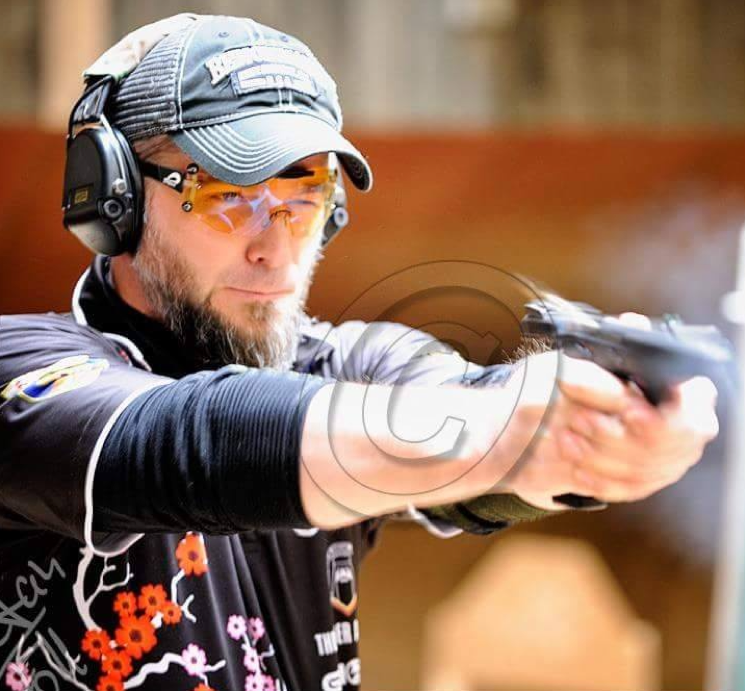 Saulius has a Law Enforcement background and started shooting IPSC already in 1999. For 8 years he worked as a professional IPSC/IDPA instructor. Saulius can burst with a title as the winner of multiple international matches and National Championships. He considers the M-Arms products as functional and dependable, which also make his pistol look beautiful.
ALEXANDER KASTNER, AUSTRIA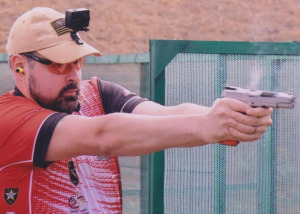 Alexander began to shoot IPSC at the end of 2015 and in 2018 he already reached the title Region champion while in 2019 he reached region and national champion in Austria in Classic Overall. Today, he is a proud holder of five presidential medals and is one of the members of national team Austria. In 2019 he attend first time EHC and reach the 12th place in overall classic division. Alexander loves IPSC and considers it as a challenge for the body but even more for one's mind, and believes it is not just a matter of winning, but a process of permanent learning. Alexander uses M-Arms grips, magwell and pads, for which claims are more than just products, as there is an idea behind the design and production, which came from a practical shooter, who understands the needs of other sport shooters.
DYLAN KEPPEL, NETHERLANDS
Hello my name is Dylan Keppel, born on 16 September 1997 in the Netherlands. In 2011 I went to the shooting range with my father for the first time. When I was 15 years old, I started with IPSC. My father and I went to a lot of IPSC matches together in Europe. After a while I started to shoot more on my own and decided that IPSC would be my main sport. I shot in different divisons and love shooting with an optic sight the most. Shooting with an optic is very dynamic and fast. So currently I am shooting in the open and production optic divisions.
Since 2019 I started to train with Cheyenne Wauben and go to all the matches together. We are shooting around 20 matches a year around Europe. Together we are on a mission to become world champions! At the moment I am the national champion of the Netherlands and won multiple level 3 matches during the las few years. 
Since this year I started to give shooting courses to Dutch shooters. After I helped Cheyenne to become a better shooter, I wanted to train other shooters as well. Teaching helped me understand the sport even better. It keeps me also focused on the different fundamentals of IPSC. Besides winning matches, I get very happy when shooters improve their skills.
                                                                                 I hope to see you soon on the range!
HRVOJE MARIĆ,
CROATIA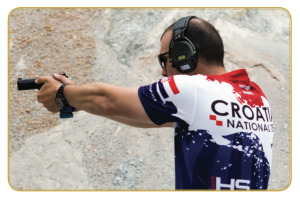 Beginnings of IPSC shooting of Hrvoje originate from his profession related to police work. He loves this sport because of the excitement it provides, while also all new people he meets, collegiality, new discovering, and overcoming the limits and standards set by other shooters. Hrvoje uses M-Arms grips and base pads as, besides being safe, the latter also provide him confidence, speed and precision in handling and use of weapons.
JC POTGIETER, SOUTH AFRICA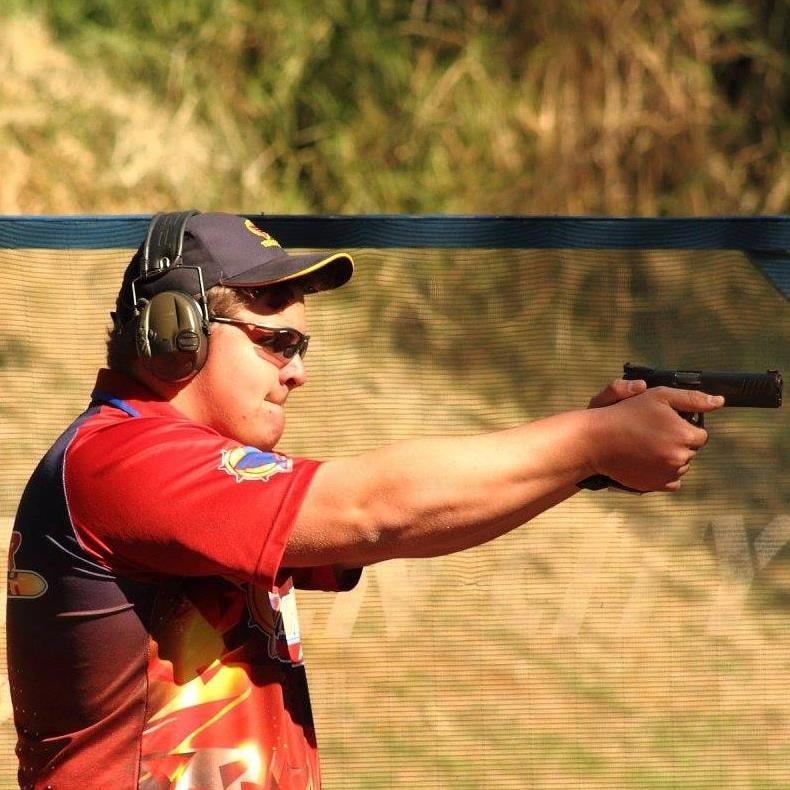 JC started shooting 9 years ago and competed in the 2017 World Shoot in France. He is shooting Standard division and has won multiple provincial and national titles in the junior and overall category. JC thinks that the attention to detail and quality of products is what sets M-Arms apart from the rest of brands and products and he looks forward to use M-Arms products in competitions.
MIGUEL RAMOS,
PORTUGAL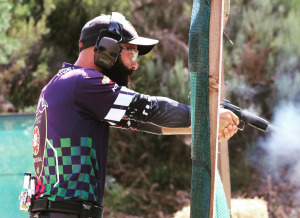 Born in a family where there was already a taste for weapons, he grew up with the dream of practicing IPSC worldwide. His career in IPSC started in 2011 and from 2014 on he has won all the possible national titles and several international ones. In 2019 he finished 14th place on the EHC. Miguel is passionate about IPSC and challenges himself every day to be a more complete, competitive and a better shooter, therefore he goes with the slogan "In each training session, there is a challenge to be overcome". Miguel chose the M-Arms brass grips (and STD RETRO base pads) as it gives him a very effective control over the weapon, provides greater speed and precision, and which even in extreme heat or rain conditions still offer an excellent grip.
TÍMEA SALAMON,
HUNGARY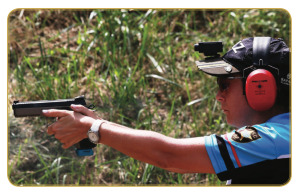 Tímea started shooting in 2002 as a member of a special police unit and from 2010 she is a tactics and shooting trainer. She became actively involved in IPSC in 2008, since than she earned many lavish titles in Hungary and elsewhere. She made it 10th at IPSC World Championship 2017. Tímea uses M-Arms grips and base pads, which make her better and more accurate at competitions, due to good formation, which allow a perfect grip.
CARLOS JAVIER SÁNCHEZ PARDO,
SPAIN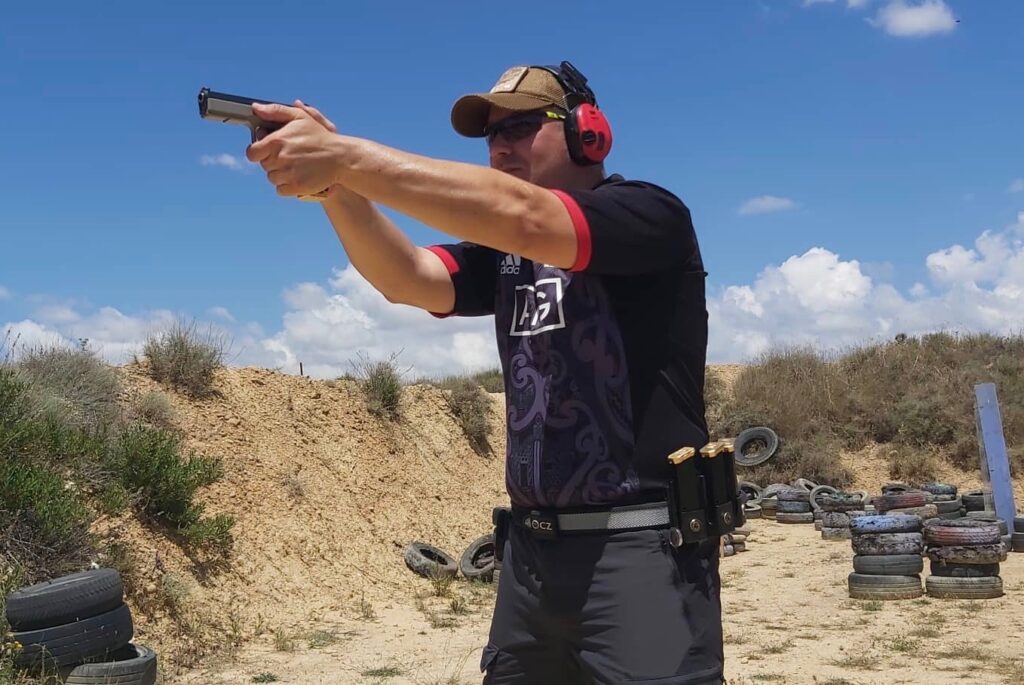 Carlos started with IPSC competitions in 2014 (production division) looking for a way to train with pistol, finding it an amazing sport. He gained several flattering titles in competitions in Spain, Portugal and France, and 13th place on the EHC '19. Carlos always tries to learn from the best, and grow each day as an athlete, nevertheless going with a mechanical moto "you can reach the top by knowing your gun" together with "little things make big differences". Carlos is using M-Arms 3D President grips in brass and STD Evo base pads. The shape and the texture of the grips perfectly fit the shooter's palm, while the extra weight make a perfect balance at every shoot.
JELENA SAVKOVIĆ,
SERBIA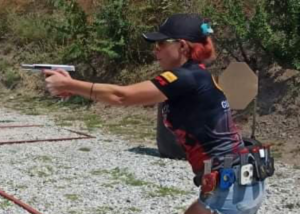 World IPSC scene cannot be considered nor analyzed without Jelena, her unique talent, exceptional skills and above all, her magnificent relationship(s) with worldwide fellow shooters, what is also one of the most recognizable IPSC brands called "Jelena from Serbia" or "Jelena from Greece". Jelena has been actively involved in IPSC world for more than 12 years, and among all other titles she is a proud owner of European Champion as well as vice World champion in classic division. Beside of being an excellent shooter, she is also a personal trainer. Jelena uses M-Arms grips, magwell and magazine base pads, which she considers to be more than just fancy and colored gun accessories. It has been designed by someone who understands practical shooting and the needs of these unique athletes when the Range Officer says "Are you ready?". After the timer beeps, best possible grip, while also fast and secure reload are equally important as competitors' skills itself. For that part of her performance, Jelena considers M-Arms to fit these need(s).
FABIAN SCOTT, SOUTH AFRICA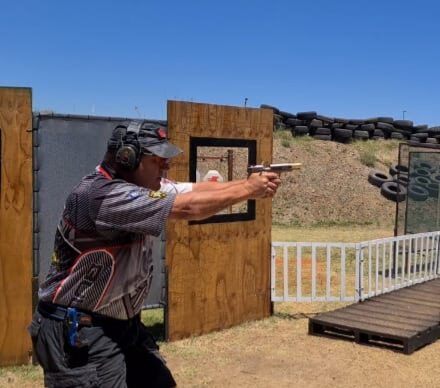 Fabian started shooting IPSC in 1997 at the late age of 21 and absolutely loved the dynamics of the sport and varying and ever changing aspects that he could develop into his own style. Fabian has shot IPSC limited class for many years winning many provincial titles as well as national titles which he still holds for 5 consecutive years. When Fabian shot his first world shoot in Cebu, Philippines it really opened his eyes to the real possibilities of the sport and firearms. He has since strived to make the national team for every world shoot and have managed thus far to get it right. After the France world shoot in '17 it was time for a change so he moved over to Classic division after Bul Armory offered him a spot on the team. The friends he has made all over the world through shooting are part of his driving force and the fun had on the range and comradery is amazing. M-Arms and it's products have recently become available at his local supplier and Fabian found the equipment to be extremely well made which really gives shooters what they need in every aspect.
KAI SIMON, GERMANY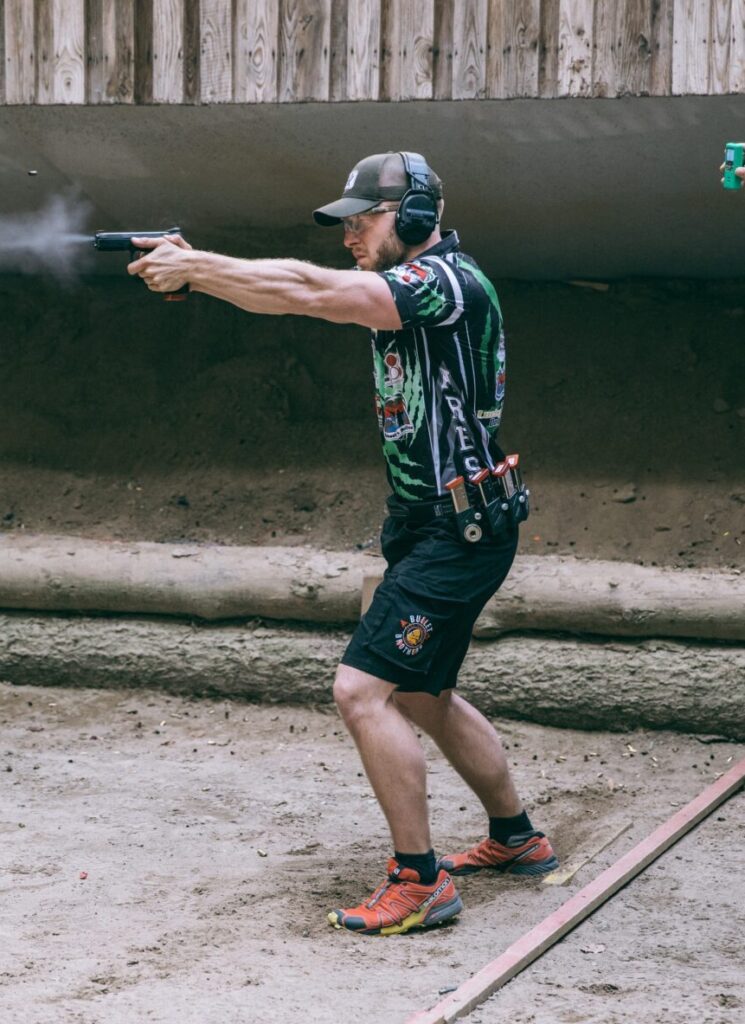 Kai started shooting in 2011 and quickly participated in his first IPSC matches. After testing a variety of different weapons, he currently shoots a CZ Shadow 2. In 2017 he won his first national title in the Production Division and was part of the German National Team in the 2017 Handgun World Shoot in France. Besides his preference for handgun shooting, Kai also made his first successful steps in Rifle and Shotgun shooting in 2022 and became vice champion in the Shotgun Standard Division. On his CZ, he uses M-Arms thick brass Monarch 1 grips, which provide an excellent – but not too sticky – grip for optimal recoil control.
SISSAL SKAALE, DENMARK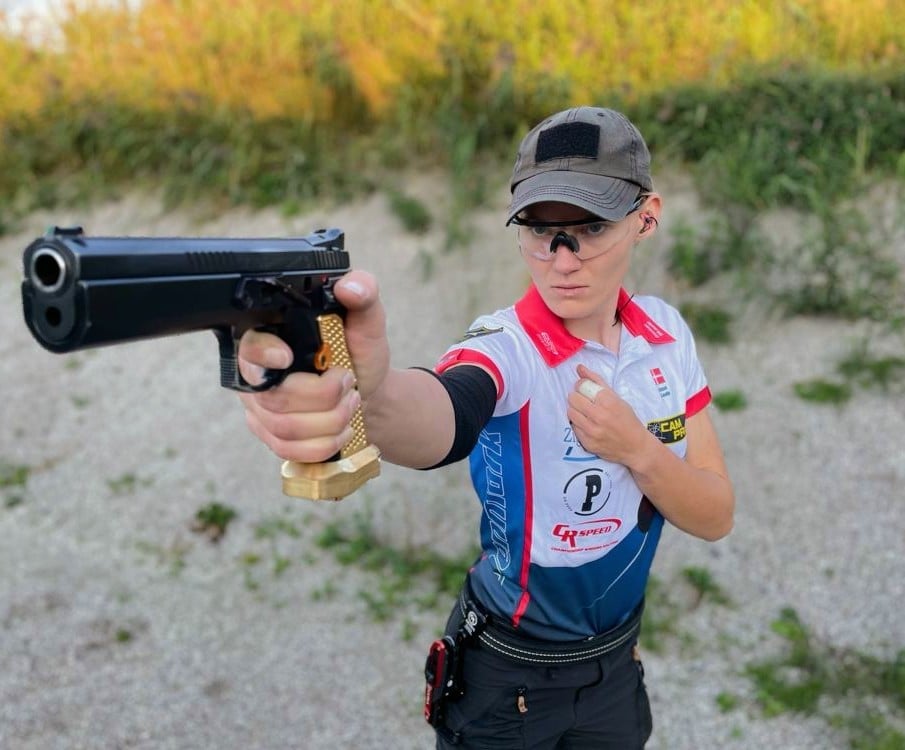 Sissal started precision shooting when she was 14 years old and has been competing internationally within IPSC since 2017. Sissal is the winner of multiple level 3 matches and holds the title of the European Champion Standard Lady. She is constantly striving to perform better as a shooter, and has chosen M-Arms products as an upgrade to her pistol. Sissal currently uses M-Arms set of Monarch 1 grips and magwell in brass, which add weight and thus reduce the recoil, and brass base pads for a quicker magazine fall-out and thus change.
DAAN VAN ETTEN,
NETHERLANDS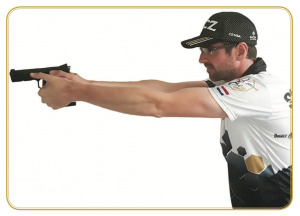 For Daan shooting is one of the most interesting sports where speed, accuracy and physical demands make it a challenging experience. Daan started with IPSC in 2013. From the beginning he is constantly motivated to improve and sees every training and match as a chance to learn something new. Daan uses M-Arms grips as its micro pockets give control over the weapon under any circumstance, resulting in better accuracy and faster follow up shots. The wide grips enable a great grip for shooters with big hands and look very cool too!
RICHARD VAN DER WEL,
NETHERLANDS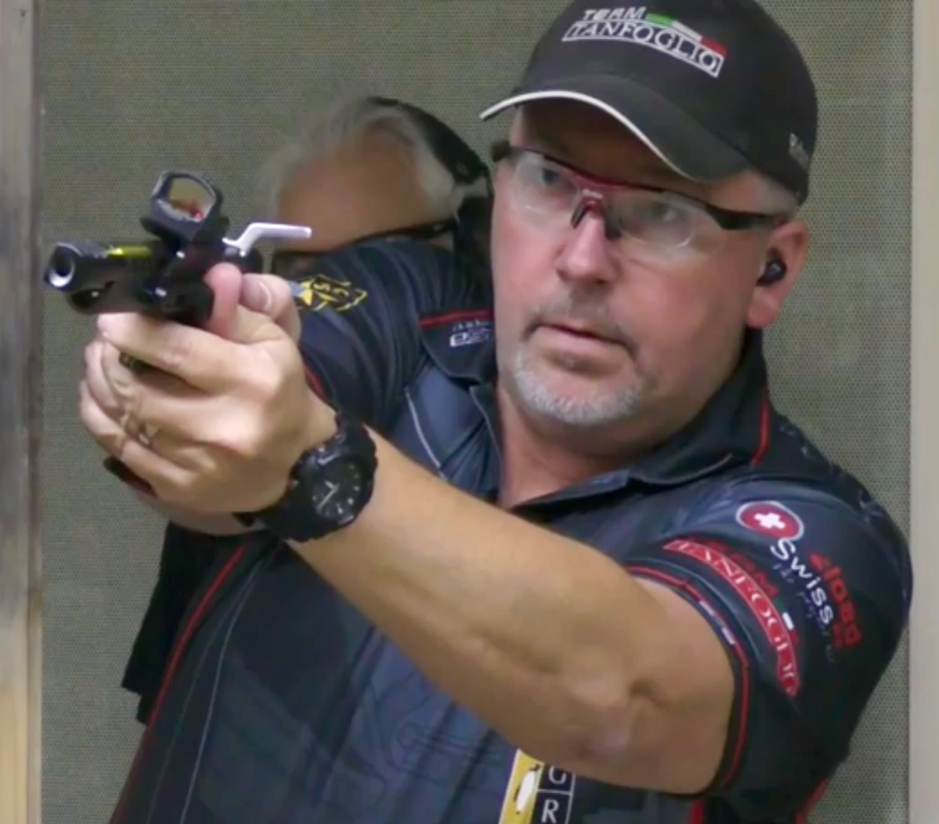 Richard started competing in IPSC at the end of 2015. After only 3 months he was the 4th overall in his first Level 3 match in Germany. At the European Championship in Serbia '19, Richard was a member of the National team. He also competes in action shooting, Bianchicup, IAPS (airsoft IPSC) and at the European Steel Challenge. He loves IPSC because it offers new challenges every time, and he especially loves foreign matches where he can meet old friends while also make new ones. Richard uses M-Arms products because he loves the looks and quality of the latter as well as the innovation of the brand, but also because he was struggling to get right grips for a good grip on the gun because of his big palms/hands. He uses M-Arms 3D President grips which fit like a glove on the pistol.
GIULIA VENTURATO,
ITALY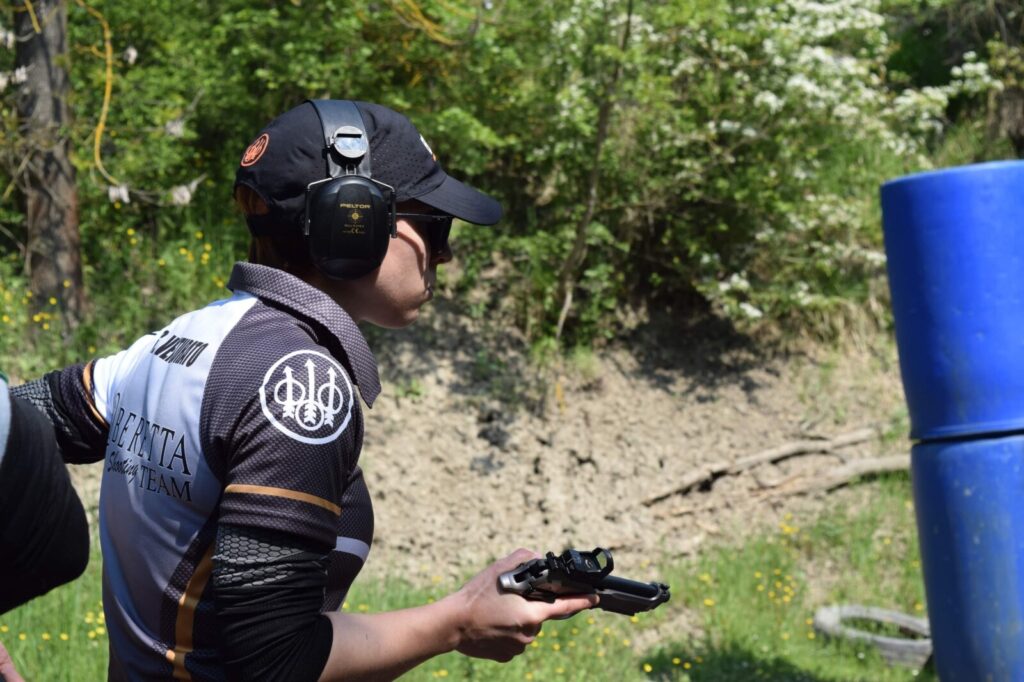 Giulia has always loved weapons, but her path in practical shooting began in 2017 when she started shooting in Production division. After a year, she started shooting in the Classic division and in 2020 switched to Production Optic where she won the title of the champion in Lady category at the Italian National Handgun (Calvisano, 2020). From November 2020 Giulia forms part of the official Beretta Shooting Team with her 92X Performance Optic Ready, with which she gained 1st place in Lady category at the Italian Interregional National Handgun '21 and at the Italian National Handgun '21. She also loves to shoot with Shotgun (Standard or Modified division) where she uses a Beretta 1301 Comp. Giulia always strives for perfection in every aspect of her life, so she couldn't practice this sport only for fun, but she wanted to become a good shooter from the very beginning of her shooting career, so she trains a lot with her husband, who is also her trainer. Giulia sees practical shooting going along well with meditation, which helps her to focus, gain more self-awareness, and get rid of overwhelming competition stress.
CHEYENNE WAUBEN
, NETHERLANDS
Hello, my name is Cheyenne Wauben and I am from the Netherlands. I started with dynamic shooting because of my father. He introduced me to the sport in 2016. In the beginning I didn't shoot a lot, because of my study and work. After my study I decided to practice and shoot more competitions. During that time, Dylan Keppel trained at the same club and helped me to become a better shooter. We spent a lot of time together and went to different competitions in Europe. I became more and more fanatic and fell in love with the sport! 
Since 2019 shooting has been getting better and better due to Dylan's training. In the same year I became First Lady Production of the Netherlands and in 2021 I won my first match overall! I set new goals every time I achieve one. This keeps me motivated. During this journey I met a lot of great people who made it possible for me to use the best products. M-Arms is one of them!
PHILIPP WESSELS,
GERMANY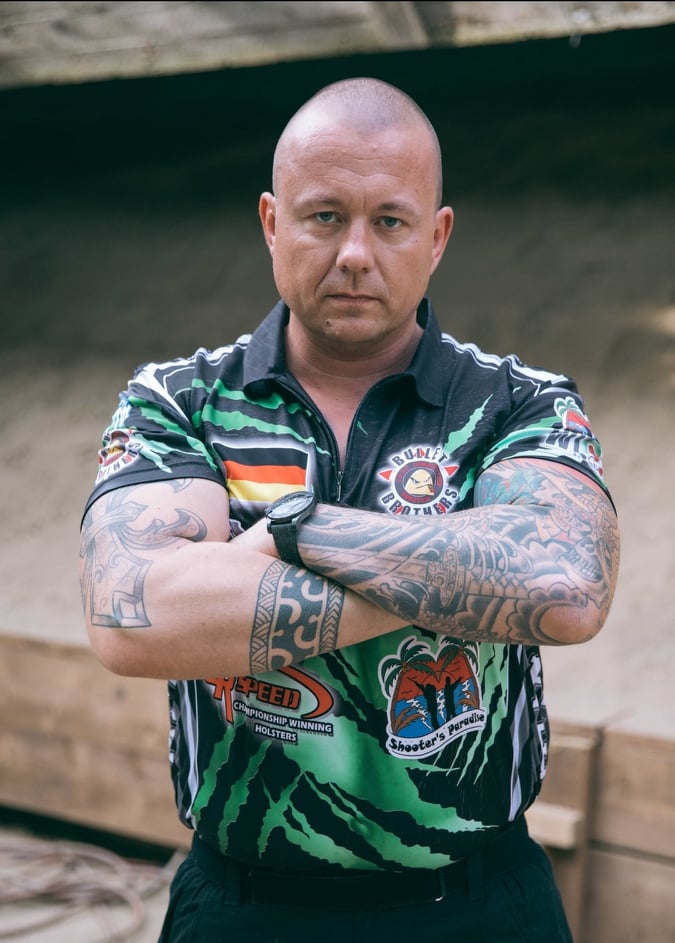 Philipp has been competing as an IPSC shooter for more than 10 years in Standard, Classic and Production Optics division, where he won the Presidential Medals. He is a Member of the German National Team since 2016. As a gun dealer and a shooting instructor Philipp knows the importance of a good pistol grip, hence he has been using M-Arms grips for many years. He recommends M-Arms grips to all because of their quality and design itself. According to Phil "what belongs together is together now".