Magazine base pads
For CZ TACTICAL SPORT (+1 round)
Suitable for CZ Tactical Sport (9mm and 40 cal.) 
More secure locking (as the pad is placed from backward). Checkered underside prevents palm's slipping and enables an easier magazine change and insertion.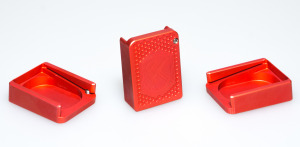 BRASS version is the heaviest on the market (35 g), which adds additional weight to the magazine making it easier for the latter to fall out the gun, thus allowing a faster change.
Fits in the IPSC Standard box!
Magazine base pads for CZ Tactical Sport are available in ALUMINIUM: red, blue, black, silver, orange, bronze, purple, green, gold, petrol green