Magazine base pads
STD MAGWELL (+1 round)
Suitable for CZ Shadow 1, CZ Shadow 2, Tanfoglio (small frame), Grand Power, Sphinx 3000 (small frame), Bul Storm, Jericho, Zastava 999 (slight grip modification required), Sig Sauer (OEM & Mec-Gar magazine), Rex, Walter PDP (FS) – with/without magwell, Walter Steel Frame – with/without magwell,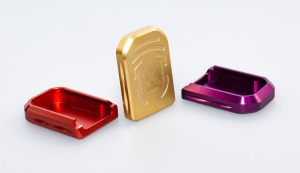 Spring floor plate included.
Cuts on both sides for an easier extraction of the magazine in case of a pistol jam. Checkering on the underside prevents slipping and allows an easier insertion of the magazine. Fast mounting and disassembling due to a spring floor plate (comprised).
Fits in the IPSC Standard box!
Magazine base pads STD MAGWELL are available in ALUMINIUM: black, blue, red, silver, orange, bronze, purple, green, gold, petrol green